5 Creative Ways To Get Into Your First Home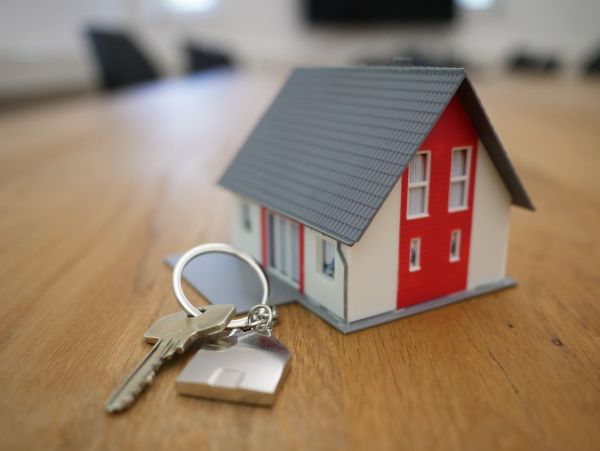 Schnauer and Co. are a North Shore-based law firm that has developed its legal expertise to encompass nearly every area of the law – so they can walk alongside their clients throughout their lifetimes, and those of their families. They combine the experience of their more than 30-year history and expert team with a lateral thinking, flexible approach to problem-solving.

In partnering with The First Home Buyers Club, Schnauer and Co. have expressed a commitment to helping educate and advise first home buyers through the process of buying their first home.

You can take advantage of Schnauer and Co.'s First Home Buyers' Member Offer here.
Reserve Bank proposes tightening of the Loan-To-Value Restriction
The Reserve Bank of New Zealand has produced a consultation document on their proposed tightening of the Loan-To-Value Restriction ("LVR") from 1 October 2021. Many potential first home buyers are already feeling added stress during a time of lockdowns, job uncertainty, lending/potential interest rate changes and all while there are limited property listings in this competitive and hot property market.

Borrowers with small deposits that are wanting to buy in one of the big cities are more vulnerable to an economic or financial shock. Some borrowers are over extending themselves and perhaps not factoring in future changes to their income(s). A review of high-risk lending may be required in anticipation of any changes in the current property market that could otherwise result in mass mortgagee sales.

However, these proposed changes to high LVR loans do not include lending on new builds or lending under the First Home Loan Government scheme. This may limit a first home buyer's options from buying an existing property in a particular area that they may be interested in, to purchasing off the plans and continuing to rent until the build is completed.
Buying Off-Plan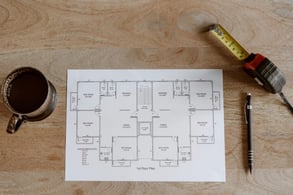 Buying a new build requires greater due diligence. Soaring construction prices and the issues that can come with entering into contracts means there is a need for greater scrutiny for added protection. Good legal advice will help avoid the risk of undesirable clauses often seen in these types of contracts. Developers have been known to add exit clauses to the contract that allow them to sell the property to another party if the additional costs are not agreed to down the track. They are looking to protect their interests with these clauses and it is your lawyer's job to help protect yours.
The original intention of LVRs
Initially, LVR restrictions were applied earlier this year to hopefully dampen investor demand and in turn help improve affordability for first home buyers. However, the changes resulted in a significant decrease in high LVR Investor lending but significantly increased lending to equity-rich Owner Occupiers while interest rates were low. Clearly, affordability has not improved.

The Reserve Bank is proposing the implementation of further LVR restrictions effective from 1 October 2021 in an effort to reduce financial stability risks associated with high LVR lending. The Reserve Bank has a statutory obligation of 'promoting the maintenance of a sound and efficient financial system' but realistically this will affect many home buyers, especially ones in big cities like Auckland where the current median house is now $1,200,000.00 (or national NZ average of $850,000.00) based on the REINZ Residential Property Statistics August 2021 report. There are so many factors to consider, such as the average deposit, how long it takes to save the average deposit and the average age and income of first home buyers.
The Impact On First Home Buyers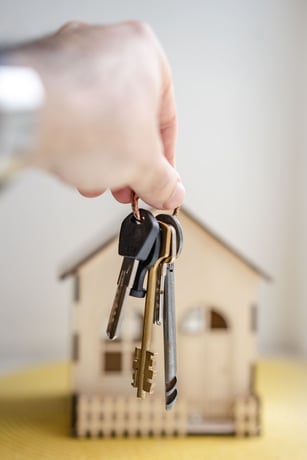 Many first home buyers feel that these changes will make it that much harder for them and will hinder rather than help them get on the property ladder. On top of concerns in relation to negative equity and/or serviceability there has been talk of expected interest rate rises in general, but also on first home buyers with high LVR lending. First home buyers already have the struggle of getting a sufficient deposit together, and if they can't then they also have to pay a low equity fee. Based on the option in the consultation document that the Reserve Bank is favouring, we would see a massive 50% reduction in high LVR loans. However, both possible options would negatively affect first home buyers, especially if they don't have what is now considered a decent deposit.
Creative Options For First Home Buyers
Despite this it is not all doom and gloom. There are still options for first home buyers, they may just need to be more open-minded in relation to buying their first house. Being creative can create options not previously considered, such as:
1. Purchasing with family or friends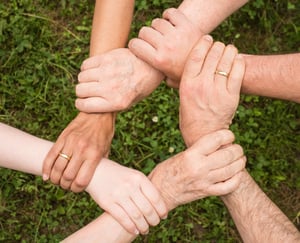 Co-owning property with family or friends (even if one party does not reside in the property) – this is becoming more common. With a good property sharing agreement in place, everyone's interests can be protected and expectations clearly set out from the start. A property sharing agreement will address issues such as outgoings and expenses, renovations, maintenance, buy out options, selling shares or refinancing, as well as occupation rights, apportionment of equity, the Bright-line impact, ageing parents and other important considerations for multi-party ownership. This option may not suit everyone but is definitely an option for some.
2. Obtaining a guarantee, gift or early inheritance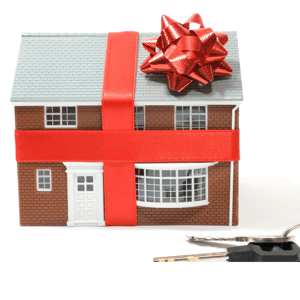 Obtaining a guarantee from family (preferably limited), gifts or early inheritance. However, guarantees are not to be taken lightly and it is important that those giving the guarantee fully understand the effects and implications of doing so. We strongly recommend obtaining independent legal advice before committing. Likewise, gifts need to be ring-fenced in an agreement if the intention is that the gift remains with one party should there be a separation in the future. As everyone's circumstances are individual to them, we can assist you or a family member with this process.
3. Having Family As Co-Owners and Co-Borrowers
Having family as a co-owner and co-borrower who does not actually contribute financially (whether gift or personal deposit) or by providing a guarantee. As the family member is legally liable to service the first home buyer's loan if the other party defaults, any risk would be mitigated by a share in the property ownership. This should still be supported by a well-considered and well drafted property sharing agreement to clarify all the expectations including division of equity and sale proceeds. By having an additional co-borrower this may extend your borrowing power.
4. Buying Off The Plans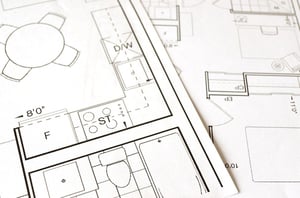 Consider buying off the plans rather than purchasing an existing property. Reassess your medium term vision and buy a different type of first home such as a unit, townhouse or apartment (considering the different caps for grants for new builds). You may also consider, while waiting for your build to be completed, living with family or in a flatting arrangement so you can save more money during this time.
5. Relocating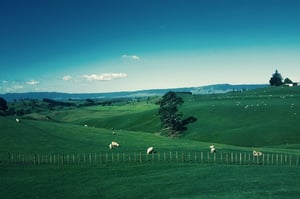 Relocate to a more affordable region or if working from home is an option consider working remotely in a more rural but affordable part of the region that brings you more options.
Seek Legal Advice Before Signing A Sale & Purchase Agreement

We can't stress enough how important seeking legal advice is before entering into a contract of any sort. Our Property Team is available even during lock downs to talk to you about the different options and considerations. Please touch base with us to set up a Zoom session (or telephone call) before you sign on the dotted line. Once we are in Level 2, any documentation can be signed remotely by the required witnesses if it is not convenient for you to attend our office. We know buying your first home can be very overwhelming with all the information, deadlines and financial burden, so we offer First Home Buyer Club members a very generous discount.

You can contact the team at Schnauer & Co. by getting in touch with Kimberley Hunt

Kimberley Hunt
Senior Legal Executive
Email: Khunt@schnauer.com
DDI: 09 892 0351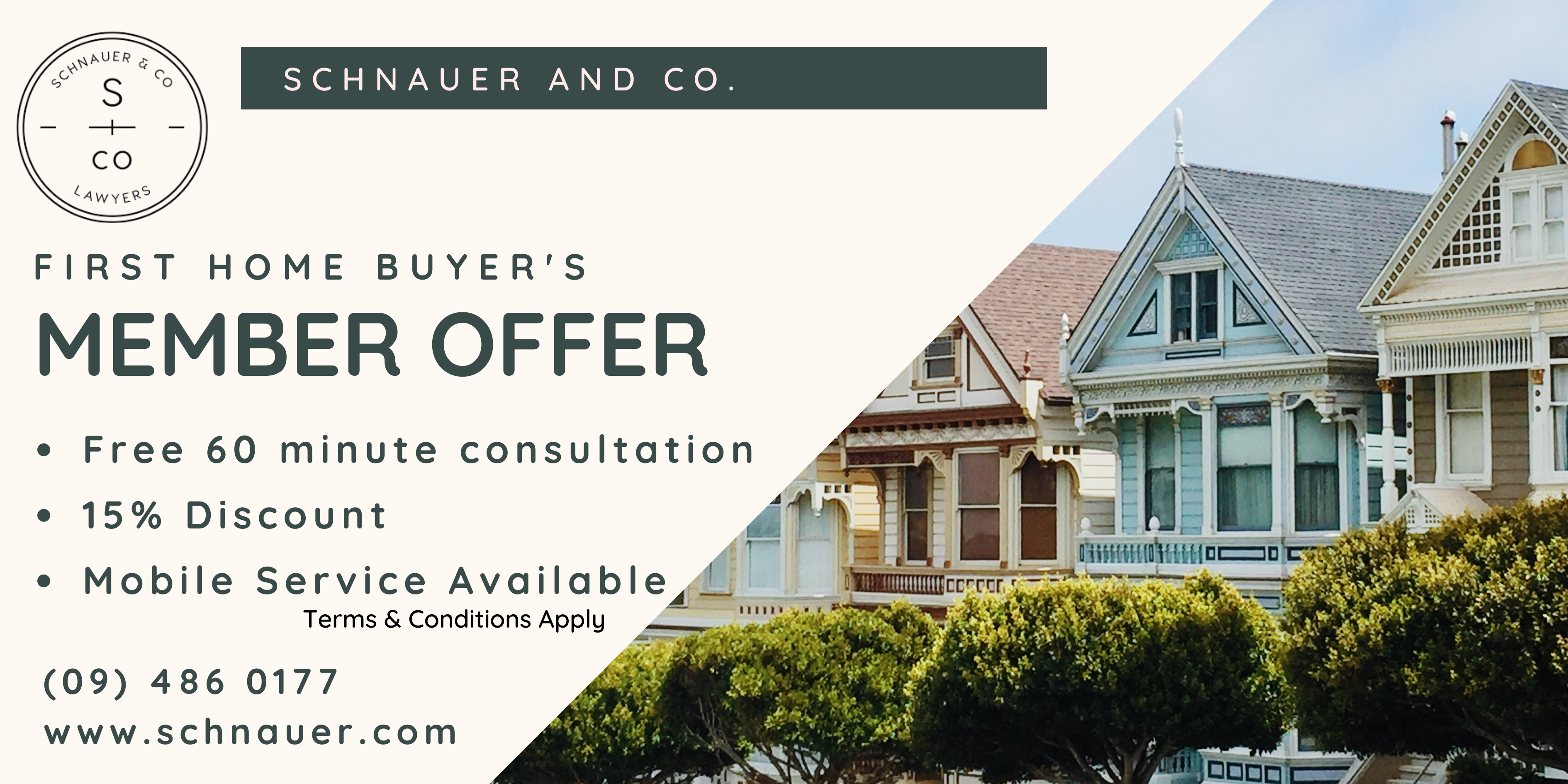 First Home Buyer's Club Member Offer
• Free 60 minute consultation
(at your election: this can be used for either initial advice or a review of an agreement for sale and purchase (to be used in one consultation, not multiple consultations).
• We can arrange to travel to you to sign documents if this is more convenient for you
(please note that additional costs will apply)
• 15% discount off the final invoice.
Contact Kim Hunt to take advantage of our First Home Buyers Offer
Tel: 09 486 0177 DDI: 09 892 0351
khunt@schnauer.com